Welcome to 2020. I hear my friends say this with irony as one disaster after another seems to fill our lives. First, the Covid epidemic. In February I got out of Europe and returned to my home in California only weeks before air travel came to a near standstill. Like many people on this planet, I now have been homebound for months, venturing only to the grocery store. All my trips and workshops for 2020 have been canceled.
Then, here in California, we have been hit hard by wildfires. I think we're on track to experience the worst fire season in recorded history in this state, with monster fires exacerbated by climate change and nearly a century of fire suppression, resulting in densely packed forests exploding in flames. As I write this, our skies have been smoky for weeks, making it hard to go outside because of poor air quality. Fortunately, we've managed to avoid the hurricanes and tornados that have besieged much of the country.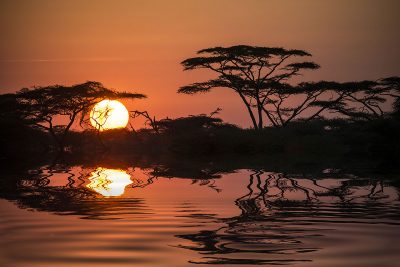 The forced isolation may have had some benefits, however. I'm happiest when I feel productive, so I've been doing a lot of scanning and organizing. I've finally had the time to revisit forgotten images from years ago, using new photo processing tools to bring life to these photos. Like many of you, I've been fortunate enough to travel to some interesting places, like Tanzania, where I experienced a heart-stopping equatorial sunrise a few years ago (Caveat: reflection added later).
Putting my aside my penchant for procrastination, I've also been doing a lot of writing. Exercising that cobwebbed side of my brain has been great fun.
My heart is with you as you too sequester at home. I hope you're all well. Please stay in touch, and please stay safe!