Twice in the last week or so I've done small local photo outings with certain goals in mind. In both cases I didn't meet my goals but found even better photo subjects.
In the first instance I went to one of my favorite places, Elkhorn Slough, north of Monterey Bay. With the help of many ocean conservation groups, especially the Monterey Aquarium, the bay and slough have made remarkable comebacks and the somewhat tiny slough often seems to be wall-to-wall birds and mammals. On this particular outing I was looking for great sea otter images, as this is one of the best places in the world to get photos of these marine mammals, once near extinction. My otter photos were okay, but nothing was really special. However, as our boat cruised near pilings near the entrance to the estuary, we saw Brandts cormorants crowded on nearby pilings. I had no idea that these birds had such brilliant blue eyes and even brighter blue throats. Here's a closeup, my favorite image of the day.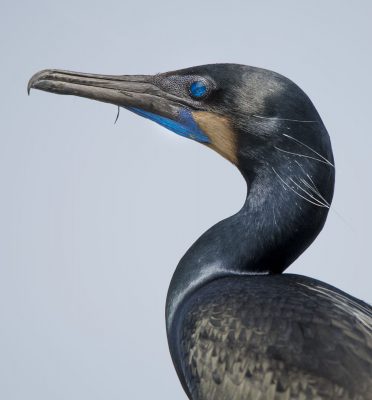 And as I write this, it's tulip season near my house in the Sierra Nevada foothills of California. So it was time for the obligatory tulip photos. I visited the lovely Crystal Hermitage tulip gardens north of Nevada City. The trip was a first for me. The place was noisy and crowded, so tripods were not allowed. A tripod is a must for my flower photos because camera (or flower) movement is such a problem at close distances. I did some nice images, but I felt slightly let down. Then at the end of the day as I climbed stairs on the way out I spied a tiny pond with a few koi. No one else was at the pond. I stepped closer, and on the pond, like something out of a dream, floated several pink camellia blossoms. The reflections of tree branches on the still waters added to the composition. Finally, I found magic. The gardens are a place for peace and meditation, and this serene little setting embodied those feelings.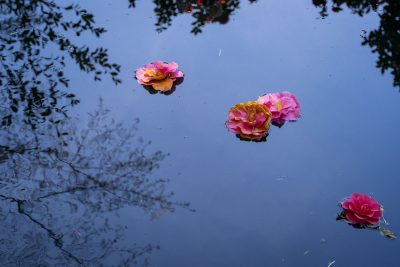 In a world crowded with photographers who seem to march lock step to all the major tourist destinations, be it Horseshoe Bend, the Yosemite 'fire fall" or the Mormon Barn of the Tetons, too many don't think for themselves and instead collect these destination cliches like trophis. However, you can find greater beauty in your back yard, in the face of a child or in a tiny mountain brook. And expect the unexpected.