Books Currently Available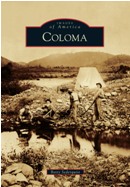 Images of America: Coloma. A 128-page book showcasing historical photographs of this important California Gold Rush town.
Digital Photography: Keeping It Simple. A 48-page book containing essential knowledge on this subject, based on years of teaching digital imaging and entry-level photography classes.
Coloma: Portrait of our Town. This modest little book is chock full of gorgeous photos of Coloma. The perfect little gift for someone who appreciates this area!
The Mountains and the Sea: Ten Years of Southeast Alaska Adventures Aboard the Delphinus. This 108-page book features hundreds of photos of bears, whales and wilderness.
A Writing Background
I am available for writing and photography assignments at all levels. I also do copy editing.
I have been publishing feature magazine and newspaper articles and books since 1973. In addition I taught college-level journalism at Cosumnes River College, El Dorado Center (now Folsom Lake College) in Placerville, California.
Freelance clients have included The Los Angeles Times, Sierra Heritage, Serrano(El Dorado Hills, CA) Motorland (now Via), Sacramento magazine, Bicycling,California Highway Patrolman, Steppin' Out, Westways and California Seasons. (Links contain samples of recent writing.) Since 2004 I have produced and edited a large color tabloid, the Coloma Lotus Guide. The 12- to 16-page annual publication highlights tourism in the Coloma Lotus Valley in the Sierra Nevada foothills east of Sacramento, California.
In the late 1970s I also was an associate editor of Alaska magazine and Alaska Journal (an arts quarterly). In the 1980s I became managing editor and then editor of Sacramento magazine. In the 1990s I produced and edited a newspaper for the merchants of Sutter Street in oldtown Folsom called The Gaslight. During that time I also ghost-wrote a small book, Understanding Rage, which deals with spousal abuse from the abuser's perspective and what he did to solve this problem.
Major Publications
A Handbook for Global Careers: An International Perspective for the Sacramento Region and Beyond. 2003. Written in conjunction with the Center for International Trade Development (CITD), this 376-page work-for-hire book was researched (with the help of several able interns), written and designed by Betty Sederquist. A series of profiles on individuals pursuing successful international careers supplement the how-to material. Many of her photographs illustrate the text, which addresses several audiences: Sacramento-area students in search of international study and career opportunities; mid-career professionals; and business people in search of international trade opportunities. I am in the process of revising and updating this book now and it will be available as a print and online interactive publication by early summer.
Sacramento Region Today/1993-1994. Writer/Editor/Photographer. This 68-page, four-color glossy annual relocation guide with a print run of 20,000 was co-sponsored by the Sacramento Metropolitan Chamber of Commerce and the Sacramento Association of Realtors. Assigned stories to freelance writers, did all editing/rewriting; did most of the photography and oversaw production.
The Alaska Catalog. Writer/Editor (byline under former name of Johannsen). Published in June, 1977. This over-sized, 140-page book, modeled after The Whole Earth Catalog, sold 25,000 copies in one year, making a substantial profit for its investors. With designer/partner Clark Mishler, I organized the publishing company, Polar Palm Productions, to produce the book and was wholly responsible for content. (Out of print)
Anchorage Visitors' Guide. Writer/Photo Editor (byline under former name of Johannsen). Published in 1979. Working on assignment from Alaska Northwest Publishing Company, did all photo research and writing for this low-budget, 64-page four-color book. (Out of print)
Alaska Farms and Gardens. Writer (byline under former name of Johannsen).Written in 1979, published in 1985. Again on assignment from Alaska Northwest Publishing Company, wrote a how-to book on how to raise fruits and vegetables in the North. (Out of print)
Facts About Alaska. Writer/Editor (byline under former name of Johannsen). Published in 1978. For this reference book, annually produced by Alaska Northwest Publishing Company, I doubled the size of the previous edition, researching and writing a reference book about 120 pages long. (Out of print, much revised since this edition)
Exploring Alaska's Mount McKinley National Park. Associate Editor. Published in 1976 by Alaska Travel Publications Inc. Handled research, photo selection and much of the writing on this completely revised second edition of a regional hiking, Denali climbing and travel guidebook about Alaska's most popular national park. Length: approximately 300 pages. (Out of print)
Exploring Katmai National Monument. Assistant Editor (byline under former name of Johannsen). Published in 1975 by Alaska Travel Publications Inc. I was assigned by the publisher to salvage a poorly written first draft of this regional guidebook, about a national monument (now a national park) in western Alaska. Emphasis was on volcanic history and travel. (Out of print)
Exploring Alaska's Prince William Sound. Co-author. (byline under former name of Johannsen). Published in 1975 by Alaska Travel Publications Inc. This 300-page travel guide represented an exhaustive pioneering research effort, as little had been previously published about this region east of Anchorage. (Out of print)