These days we communicate in so many ways. The best communication is face to face, but that is not always possible. We photographers often network with one another, even when we're thousands of miles away. Blogging—a term not even invented just a few years ago—helps that communication. Those of us who take our websites seriously are scolded by web design gurus that we must blog often to raise our Google rankings. But how to find your special voice? That's the hard part.
I often look to talented photographers for inspiration and learning. They bring very different techniques—and voices—to the blogging world. One photographer I have respected for years is Jim Zuckerman. Unlike most other successful photographers, he is a generalist, photographing landscapes, wildlife and people with equal ease. He produces a free, gorgeously illustrated online magazine full of great tips (and he also offers some amazing trips and workshops). Just today, for example, I finally mastered the Photoshop Mixer Brush, thanks to his great tutorial. You can sign up for his magazine/blog on his website.
Another photographer colleague is Clark Mishler, who brings an entirely different voice and style to his work. Clark and I worked together years ago on four book projects in Alaska, and then he went on to be a layout editor at National Geographic magazine before returning to the northland as a full-time photographer. He has bravely decided to make a portrait a day, no small task. However, his amazing "eye" has served him well. The project has resulted in a spectacular coffee table book and a huge exhibition of his images at Alaska's largest museum. We may be doing some Northern California portrait workshops together in the next year or so, and I'm slowly laying the groundwork for this.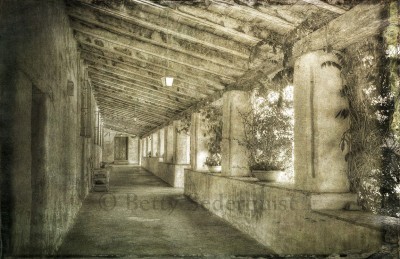 Another good friend is Dianne Poinski of Sacramento. Her unique work is displayed in art collections all over the country. For non photographers who think great photography is simply a matter of pushing a button, Dianne's blog will dispel that myth. She spends a lot of time searching out great locales, and gives even more time to careful post processing. The journey can often be quirky, sometimes difficult and other times inspired. Recently she and I have been communicating about Photoshop texture techniques, which she uses to great effect. In recent days I've been exploring these techniques, which also involved wrestling with Photoshop and Lightroom upgrades and Extension Manager. Lots to learn, but so worthwhile. Attached here is a photograph of a corridor at Carmel Mission. The original was an HDR (high dynamic range), then I used a variety of textures, masking and more to get the effect shown. The mission has a sense of timelessness and peace about it, and I'm hoping this image conveys the mood.
In photography, as in so many things, life is about the journey.