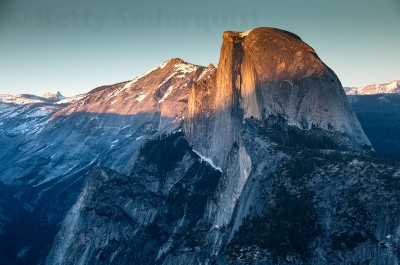 Although the affliction is found in every photographic genre, nature photographers seem to be particularly guilty of this phenomenon: the iconic photo. For landscape photographers, there is no more iconic location than the Yosemite Valley. This is where Ansel Adams, the "saint" of landscape imagery, honed his craft, and in years hence, literally millions of photographers have strived to emulate him. And as for icon within icon? Half Dome, shown here, fits that niche nicely.
Yet, we can't seem to avoid the itch to "bag" that icon for ourselves. Maybe it's a way of saying, "I was here." There are dozens of icons I can think of: Yosemite (and there, Tunnel View, Valley View, Yosemite Falls and El Capitan all easily fit the definition), Neddick Light in New England, the Eiffel Tower, the Pyramids, Taj Mahal, Mono Lake, Bodie, Delicate Arch, Maroon Belles, the bridge in Zion, Zabriskie Point, and the list goes on.
Wildlife photographers have their own icons, from bald eagles to bighorn sheep. Long ago, as a photo editor for Alaska magazine, I would get one hunter after another in my office, telling me that they had traded in their rifle for a camera, still enjoying the thrill of the hunt.
Imitating Ansel Adams or the great wildlife photographer Tom Mangelsen is easy, if you're in the right location at the right time. The old National Geographic adage, f/8 and be there, still holds true. I've made a career of getting photographers to those amazing locations and then making sure everyone gets the great shot. Camera settings are easy, but the "be there" part can be tricky. Going beyond the icon is where things get interesting. Yosemite is a good example. For years I avoided Yosemite, figuring that everyone else had "done" this part of the world, and there are few things I detest more than crowds of photographers.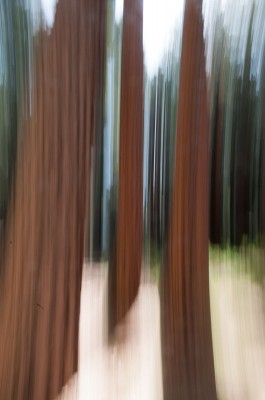 Then I was asked to teach a class there and realized I knew little about the place. So, research was in order, with several scouting trips to Yosemite Valley. I went on weekdays in winter, and found the valley wonderfully uncrowded and the lighting great. I fell in love with this part of the world, and once I had photographed the requisite icons, searched for more subtlety. Instead of grand slabs of granite, I found delight in reflections on the Merced River, or dewdrops on a blade of grass. Somehow being around all that grand beauty heightened my sense of wonder, and some interesting images resulted.
This journey made me realize once again that we don't need to go to those iconic locations to find great imagery. It's often available right in our own back yards. Slow down, look at quality of light, shadows, clouds, textures. If you enjoy animals, find new ways to photograph your pet, or go to the nearest pond or wildlife refuge for ducks and their reflections at sunset, for example. Portraiture is a whole separate genre, and to achieve greatness here you must look into the soul of your subject and make an all-important personal connection. Really work on seeing. You'll find that the world is indeed full of magic.
On the left is a different sort of Yosemite shot. I had trudged in the early morning to catch a rainbow on Yosemite Falls. Bagged that icon. Then on the way back to the car I wandered into a stately grove of conifers. Setting the camera at f/22 in order to get a slow shutter speed, I panned the camera vertically to get this blurred effect.
So, yes, photograph the icons, but that's only the beginning.