We're changing the mix on this year's Bodie workshop, because the December 28 Hawthorne earthquake damaged some of the buildings so that photo workshop participants aren't allowed in until the state has made a thorough inspection. That inspection likely won't happen this year. However, Bodie is still our "star attraction. At an elevation of over 8,000 feet the stars are phenomenal, and we've timed this one for the new moon during the summer so that the Milky Way will be high in the sky.
I'm co-teaching this workshop with Paul Cockrell, who with his wife Ruth owns Placerville Art Gallery (where you can see some of his amazing star photography. He has a second home near Mono Lake and Bodie and knows the region well.
We're going to do two nights of star photography, the first night a practice sunset/starlight session on August 22 on the north shore of Mono Lake (we like to avoid the crowds and multiple flashlights at South Tufa). We'll sleep in the next morning, then meet after breakfast mid morning at Paul Cockrell's house near the north shore of Mono Lake for a critique session and fine tuning of our star photography techniques. Mid afternoon, after a big lunch, we'll head for Bodie. Late-day light there can be spectacular, with bright colors amplified by alpenglow. In fact, three of the photos in this year's Bodie calendar are from our workshops, including the cover. After 6 p.m. we'll have the whole town to ourselves except for staff. In addition to star photography we'll do some light painting of the buildings.
The small number of participants (maximum 10) ensures more time for everyone to take the photos they want. All skill levels are welcome. You're on your own for meals, although we'll have some snacks available in Bodie. As time and inclinations permit on Thursday, we might drive to a favorite location southeast of Mono Lake for some wild horse photography. There are other opportunities we can explore, too.
You'll want to bring a tripod, camera capable of manual settings (best if you have one that will handle high ISO settings with minimal "noise"). Bring a cable release or remote if you have one. Bring lots of cards, extra batteries and WARM clothes (it can get down to freezing and wind is common). A week or so before the workshop starts we'll be sending a detailed instruction sheet about night photography.
P. S. Most of the star photos on this page are from Paul Cockrell. Web editing software makes it very difficult to change the sederquist.com watermark.
The park is northeast of Yosemite, 13 miles east of Highway 395 on Bodie Road (Highway 270), seven miles south of Bridgeport. From U.S. 395 seven miles south of Bridgeport, take State Route 270. Go east 10 miles to the end of the pavement and continue 3 miles on a dirt road to Bodie. The last three miles can at times be rough and dusty or muddy. Reduced speeds are necessary. Call the park at (760) 647-6445 if there are any questions about road conditions.
The map below shows approximate driving routes and times from El Dorado County. During summer and early fall Monitor Pass (State Highway 89) is usually open and provides a faster and scenic route. For road conditions, check out the Caltrans website or call them at (800) 427-7623. Weather conditions can change quickly.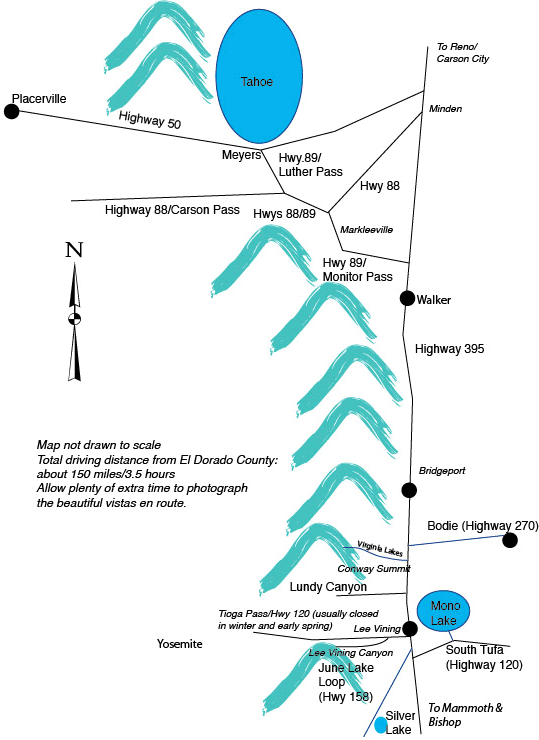 Cost: $600
Betty can now take credit card payments on-site as long as there is a Verizon cellphone signal (marginal in Bodie). We prefer, however, that you pay online. (Please use the registration button above.) Cancellation refunds are on a sliding scale. For example, if the workshop is full and you cancel at the last minute and I can't find a replacement, then there is no refund.
We'll drive to the region on Monday morning, overnighting in Lee Vining, or–closest town with overnight accommodations–Bridgeport (the workshop fee does not include accommodations and food).
In Bodie we start by the Methodist Church at approximately 5 p.m. and explore from there. Please ask for your two-day photography pass (Sederquist workshop) at the gate and put this pass in your vehicle. The park closes to regular visitors at 6 p.m. We'll be exploring the magnificent high-altitude sunset and early evening light, followed by what should be (weather permitting) outstanding full-moon photography over the ghost town. Thursday is our optional Mono Lake "secret places" add-on. We'll be sending out a detailed schedule about a week before the workshop.
Food & Lodging
Bodie itself does not have overnight lodging open to the public. The nearest towns with lodging are Bridgeport and Lee Vining, both along U.S. Highway 395. Many motels can be found here, although in October you are advised to make reservations early, as hundreds of people converge in the region to photograph the beautiful fall aspens.
Each town has advantages and disadvantages. Lee Vining, to the south, is further from Bodie, but it's close to Mono Lake, itself a fantastic photo opportunity, particularly at sunrise or sunset. Plan on about a 45 minute drive from Bodie. There's great food at the Whoa Nelly Deli, at the junction of highways 395 and 120. Check here for a list of overnight accommodations.
Bridgeport, to the north, is the closest, about a half hour drive from Bodie. Here's a list of overnight lodgings.
Clothing
Bodie is a physically challenging place, since it is at an altitude of 8600 feet in a high desert environment. Hydration is critical. Weather can be changeable here and at any time of year we can get snowstorms, so be prepared for winter driving conditions at any time of year. Wind is common. Morning and evening temperatures are typically freezing or even below (dress super warm–jacket, hat, gloves–for the evening shoot, and hand warmers can be a good idea), but daytime temps can warm up quickly. During the day the sun can be intense at this altitude, so bring a hat, sunglasses and sunblock.
Camera Gear
Bring camera, camera manual, extra cards and batteries, and a tripod (a must for night photography). A cable release or remote is convenient, although in a pinch you can use your self-timer. A loaner tripod is available by prearrangement.
You may also want to bring flash, colored gels, flashlight (also good for the nighttime walk back to the car) and other creative lighting systems.
A week or two prior to the workshop you'll get a detailed list of possible photo ops and equipment.
Food
We'll be bringing some light snacks, but you may wish to bring your own food. Be sure to bring plenty of water, although we'll also have water on hand at lunch. Bodie does not have any facilities except flush toilets and a drinking fountain at the parking lot, and a couple of outhouses in the center of town.
Good-bye God, I'm going to Bodie," a little girl was quoted in a Truckee newspaper when her family was leaving for this camp with its desperate reputation. The Bodie newspaper said, no, she said, "Good, by God! I'm going to Bodie."
Bodie, in a cold, desolate corner of the Sierras at a elevation of 8600 feet, claimed four world records: The wildest mining camp (10,000 citizens, 7 breweries, 60 saloons, the wickedest men, the best drinking water. For a while, it was said that a killing occurred every day. About $32 million in gold and $6 to $7 million in silver was taken from Bodie mines. At first mining was slow, until a phenomenally rich strike was made in 1877 by the Standard Mining Company.
Mining accidents took dozens of lives, often in cave-ins, elevators out of control, explosions and more.
The heyday 1878-79–was short-lived –plenty of other mining towns emptied out as folks headed for Bodie–, and by 1881 the town had begun to decline.
Like so many gold rush towns, Bodie endured fire. The first big fire hit in 1892, when most of the structures on North Main were destroyed. A second major fire in 1932 swept away most of the business buildings on North Main, destroying all but 10% of the town.
A Chinatown in Bodie (little remains) had some 1500 inhabitants amply supplied with gambling and opium dens, saloons and a big Joss Temple along with many stores. None of the Chinese worked in the mine—the strong union took care of that—but many did placer mining. Mostly they operated restaurants or did laundry or cut wood.
In 1881 a narrow gauge railroad was built from Mono Mills to Bodie, a railroad only 32 miles long but incorporated at a million dollars.
Bodie was also the site of the world's first long-distance transmission of electrical power. It wasn't a great distance—13 miles—but electrical energy had never been carried so far before and most folks said it couldn't be done, and that electricity would "jump off" into the air. Tom Leget, superintendent of the Standard Mill, was convinced it could be done, and proved his point.
James Stuart Cain, mine and mill operator, banker, and major property owner, emigrated to Bodie from Carson City in 1879. Here he built one of the finest dwellings in town. They raised three children. One of them,Victor, married Ella Cody, a schoolteacher in Bodie. Systematically they began acquiring Bodie properties one after another, because they wanted to preserve it. They lived in Bridgeport, but hired watchmen to keep an eye on the town.
The town is more or less intact because of a watchman, Clarence Birks, who lived here with his wife year-round since 1958. Mrs. Birk ran the museum. Most of the last residents lived here 50 years ago.
Bodie was designated a National Historic Site and a State Historic Park in 1962 and today is kept in a state of "arrested decay."
In 1986 an organization was formed called The Friends of Bodie, committed to preserving archival (paper) materials, and more. (PO Box 515, Bridgeport 93517). It's an organization well worth supporting.
The cemetery is worth a visit. The tallest and most impressive stone there commemorates a person who never visited Bodie or even heard of it, and who is buried 3,000 miles away. The stone originally was intended for William S. Bodey, who in the summer of 1859 made the first discovery of placer gold in this area. That same winter Bodey froze to death in a blizzard. When his body was located the following spring he was buried where he died, and the boomtown that sprang up as a result of his discovery was named in his honor. A sign painter didn't like the way his name looked on the livery stable, so he changed the spelling, and the new spelling stuck.
In a burst of civic pride, citizens decided some years afer Bodey's death to move his bones to a place of honor in the city cemetery, and in November, 1879, the 20th anniversary of Bodey's death, the removal was performed with the Bodie Brass Band providing suitable music, and local luminaries making speeches. A sizable purse was raised to pay for a monument, and a sculptor was commissioned to chisel a tall shaft topped by an urn.
But before the inscription was cut, word reached Bodie of the assassination of President Garfield. By this time the fervor honoring the camp's discoverer had begun to wane a bit, and inasmuch as Garfield had been a good Mason. the Masonic lodge was then one of the strongest organizations in the town, it came about that Bill Bodey's granite shaft was dedicated to a martyred president. The inscription now reads: to the Memory of James A. Garfield, prs. of U.S. Died Sept. 19, 1881, Erected January, 1882.
Later some members of E.Clampus Vitus installed a large granite boulder in the cemetery honoring the founder.
The neighboring town was Aurora, older by several years. It was six miles away from Bodie. Some $30 million in gold was taken out of the ground here, and for some time there was quite a rivalry between the two towns. For a time Mono County had two county seats, in two states, Bridgeport in California and Aurora in Nevada. Mark Twain called Aurora home for a while and wrote some of his best stories from here. Today, because no one was there to preserve it, little is left of Aurora but the cemetery.